FAST SHIPPING ON ALL BOAB DOMESTIC ORDERS
How to Set Up a 4WD Water Tank in Your Vehicle
Posted by Andrew Murray, 11th March 2023
Benefits of Water Tank in Your 4WD
Carrying water in a 4WD takes up space… a lot of space! When you're packing for a camping trip, finding room for bulky 20L supermarket water containers or jerry cans is a hassle.
Instead of loading up your 4WD with water containers, use a dedicated water tank instead. You'll save valuable space, and have water on tap.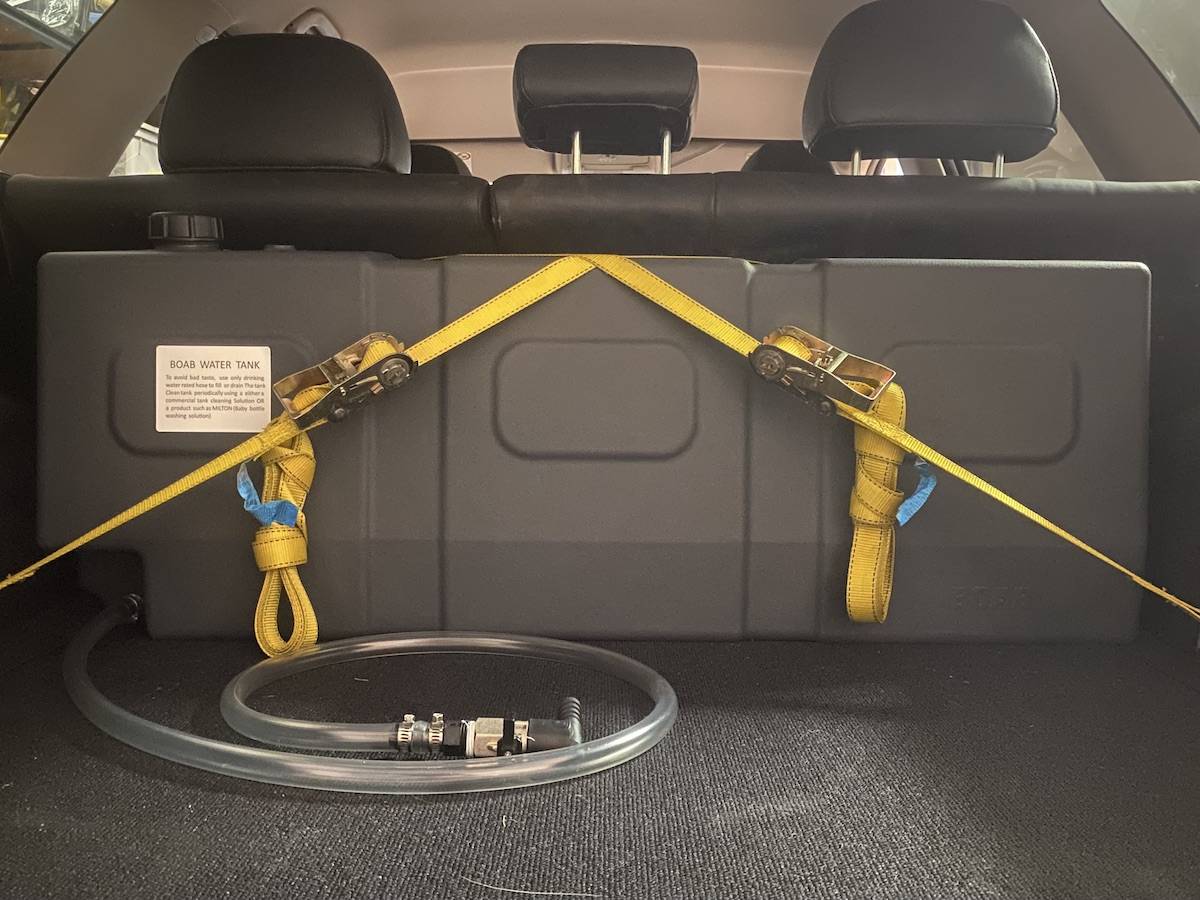 An easy way to carry water for weekend camping trips, with a Boab water tank and hose kit.
Carrying water in a 4WD takes up space… a lot of space!
Ideally, a water tank for a 4WD should be:
1.      Easy to fill,
2.      Able to hold a reasonable volume of water (50 – 100 litres),
3.      Compact,
4.      Tough, lightweight, and UV-resistant, and
5.      Easy to decant using a hose or tap.
Water tanks designed for the rigours of life in a 4WD will generally tick the first three boxes. But the final two narrow the field somewhat.
Boab water tanks are BPA-free and made from thick UV-resistant poly. They're roto-moulded from one piece of poly to eliminate weak points. With a well-earned reputation for quality and rugged design, they're a smart choice.
Add a hose kit so you can access the water in a convenient spot, and your setup is complete.
Let's firstly run through the pros and cons of installing a tank permanently, versus having something removable. And we'll give you some tank options to consider, depending on your needs and the type of 4x4 you have.
Then we'll get to the confusing bit… how to pipe it up. Should you use a pump, or a hose with gravity feed? What's better? How do you pipe it up? And how do you wire the 12 volt pump? We'll give you the answers.
Permanent 4WD Water Tank Installations
The most obvious solution is to fit a water tank permanently under your tray or behind the rear seat. It doesn't tick the "easy to take in and out as needed" box. But it is convenient.
Permanent 4WD water tank installations have a few pros and cons. On the positive side, you always have the convenience of water on tap. And it's one less job to do when packing for a camping trip.
The downsides are the extra weight you'll be carrying around, and the space a permanent water tank takes up when you don't need it.
What type of tank you choose depends on what vehicle you have. Utes give you a range of options. A 4WD water tank can go:
·        Under the ute tray, behind the rear wheels.
·        On the tray or in the ute tub.
If you own a wagon instead? One of these Boab water tanks will fit the bill:
·        Tapered tank which fits behind the rear seats.
·        Footwell tank for the floor in the rear seat compartment.
·        Slimline tank to fit behind the rear seats or up against the cargo barrier.
When you fit a water tank in the cab, be sure to tie it down… regardless of whether it's permanent, or only in there for a day. A loose 50+kg water tank can be deadly in an accident.
All the tanks we've listed above have mouldings to take straps. It's easy to strap them down with ratchet straps or steel straps if they're outside the cab. Find a couple of tie-down points or even child restraint harness points to use as anchor points if they're inside the cab.
Temporary 4WD Water Tank Installations
Sometimes a temporary installation is your only option…. usually because it's a company vehicle or a daily driver.
By "temporary", we mean a water tank you only fit into the 4WD when you need it. Then when the trip's over, store it in the garage until next time. If you choose wisely, you'll be able to use the same tank in multiple vehicles.
The best options for temporary water tanks are:
·        Slimline vertical tanks which fit behind the rear seat, against a cargo barrier, or against the front of a ute tray or tub.
·        Footwell water tanks which sit on the floor. These are especially good when you have small kids whose feet don't touch the floor yet.
·        Tapered tanks which fit snugly behind rear seats.
·        Cube-shaped tanks which are compact.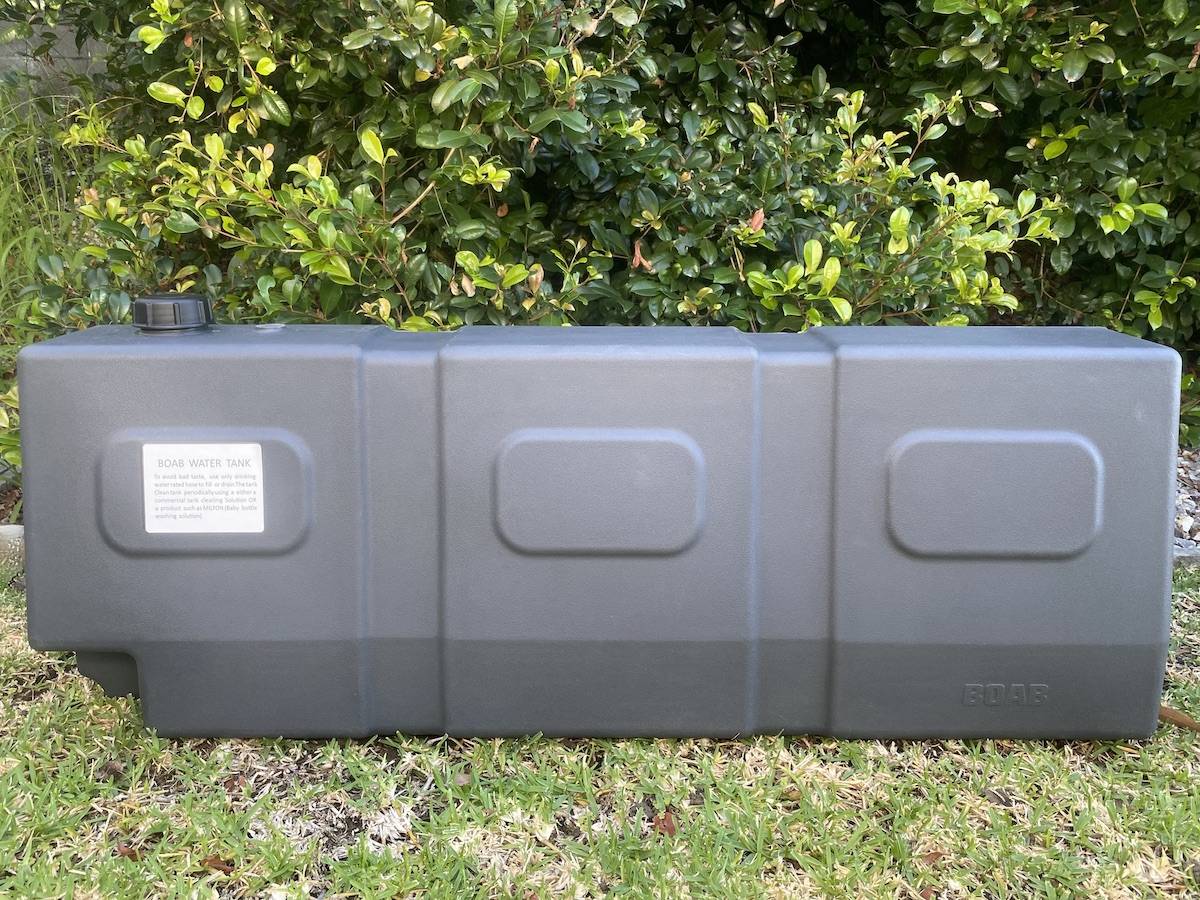 We chose a 50 litre Boab tapered water tank, due to its compact size.
If you need more water than one tank can provide, use a combination of two or more. For example, one footwell tank and a tapered tank will give you 90 litres of combined storage.
How you pipe these tanks depends entirely on your needs… and whether you have a power supply to run a small 12V pump.
We took a Boab tapered water tank and fitted it out with two different types of hose kits:
1.      A gravity fed supply, and
2.      A pumped water supply from the tank.
We'll show you how easy it is to set up both, plus the pros and cons of each.
Using What You Already Have… Gravity
The Hose Kit For Gravity Feed has all the bits you need. We fitted it to the Boab 50 litre tapered tank, which has a brass ½" BSP threaded outlet. Most Boab tanks have the same sized outlet, allowing you to use the Hose Kit For Gravity Feed on any Boab water tank.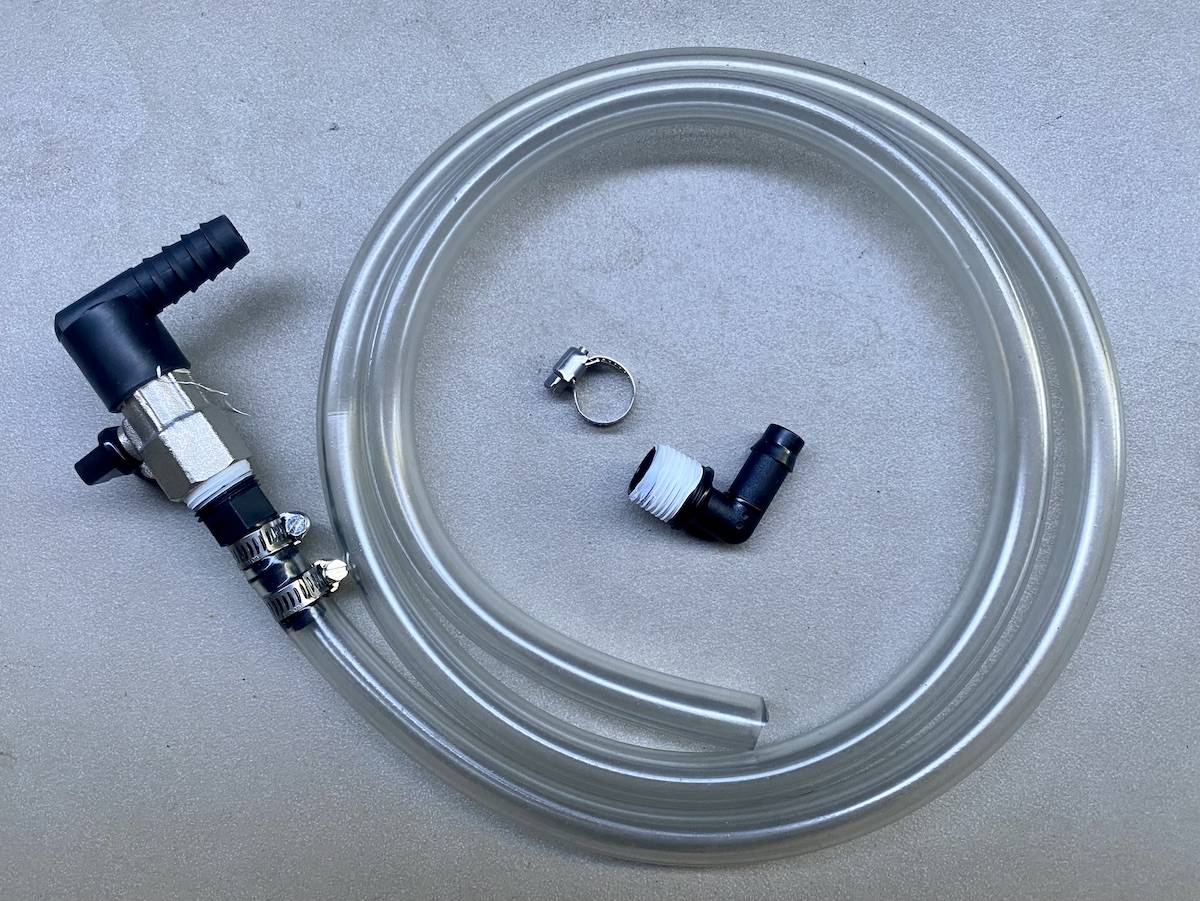 The Hose Kit For Gravity Feed has all the parts you need for a simple gravity-feed system.
First, fit the supplied 90° elbow to the tank. Use thread tape to prevent any leaks. You can buy a roll of thread tape at any hardware store.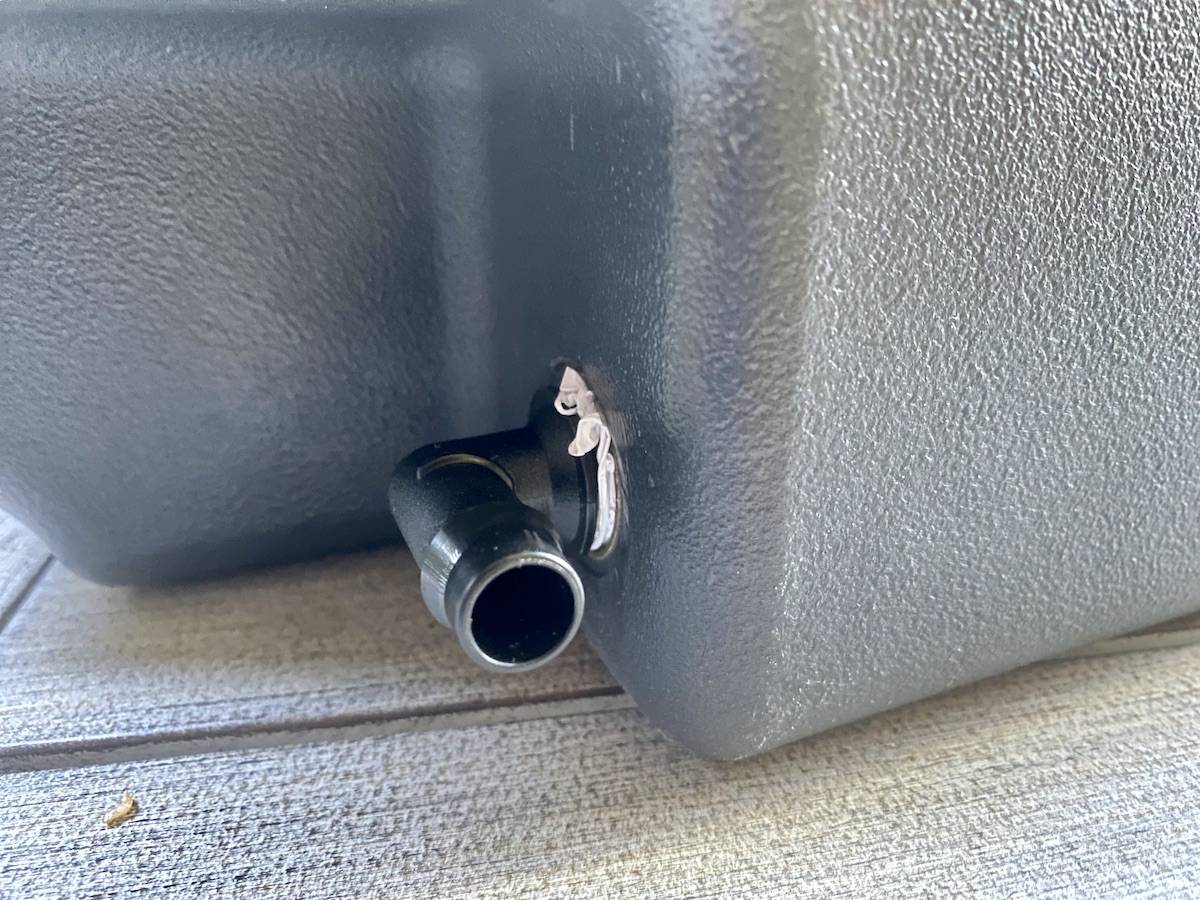 The 90° elbow fitted to the tank outlet fitting.
Attach the 12mm clear hose to the elbow barbed end and secure with the supplied worm drive hose clamp.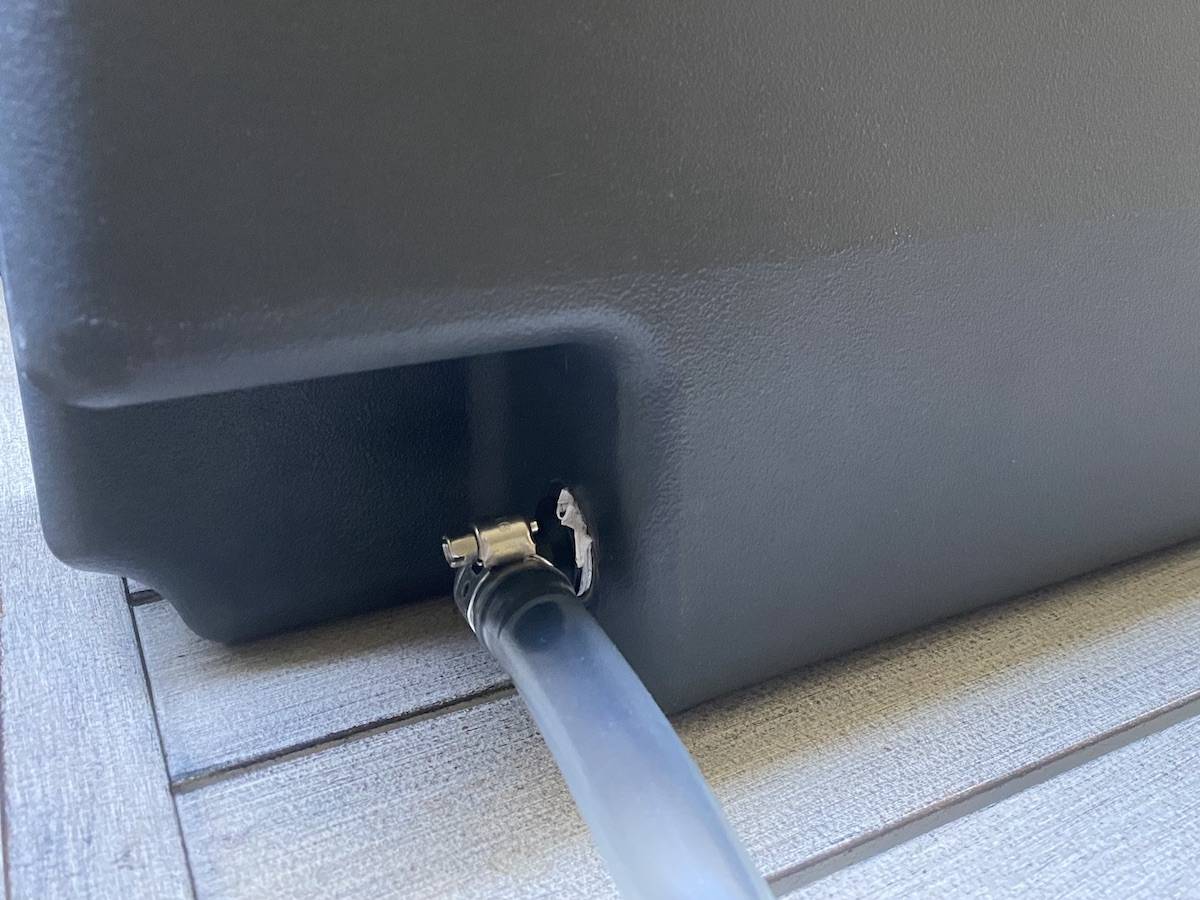 12mm hose clamped to outlet and ready to use.
Job done - easy! Now we have water on tap. The end of the hose has a tap (ball valve) with a 90° outlet to make filling bottles and cups easy. And the 1.5 metre long hose is plenty long enough to reach outside your vehicle, so you don't spill any water inside.
The finished job. A neat and simple solution.
Gravity feed is simple and effective… there's nothing to go wrong or fail. But the tank might be lower than the outlet, or you might want to pump from one tank up to higher tank. Or maybe you want to set up an outside shower.
You'll need a pump.
A 12V diaphragm pump is the simplest and most cost-effective option. This pump puts out 3.8 litres/minute and has an automatic pressure switch. So, the pump starts and stops automatically when you turn the tap on or off.
The flow rate might seem low at first, however there's a very good reason for this. When you install a pump, it's easy to chew through all the water in no time… especially if you have a portable shower. By having a low flow rate, your water will last much longer.
When choosing a 12V pump, you'll need a different hose kit. The Hose Kit For 12V Water Pumps includes all the fittings you need to connect the water pump to the tank, including a tap.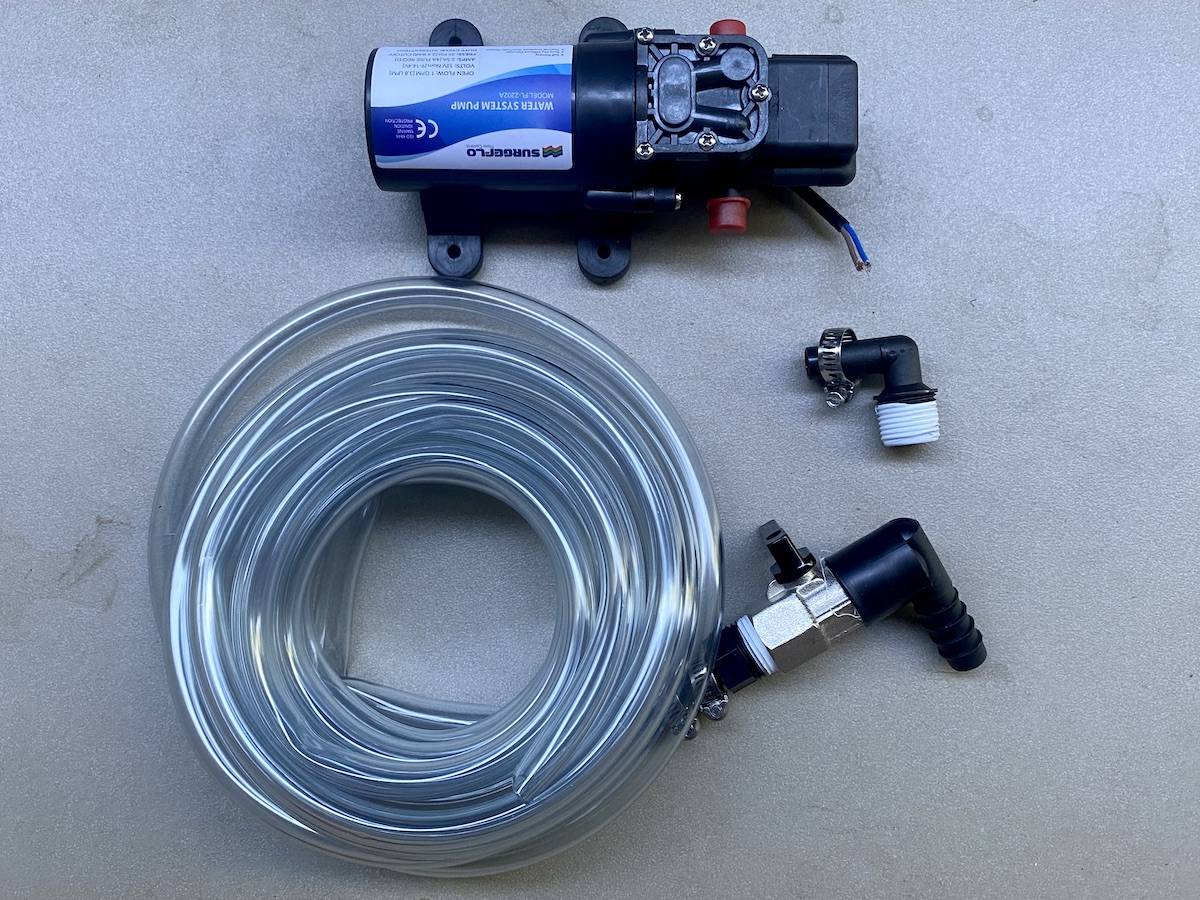 The complete Hose Kit For 12V Water Pumps, plus the 12V Water Pump.
The photo above shows what you need. To clarify, it shows:
2.      Hose Kit For 12V Water Pumps
You buy these two items separately.
Piping up the water pump is simple:
1.      Fit the supplied 90° elbow to the tank, using thread tape to prevent any leaks.
2.      Figure out where you want to mount the pump.
3.      Run the supplied 10mm clear hose from the tank outlet to the pump inlet. Cut to length and secure both ends with hose clamps.
4.      Take care to attach the inlet to the correct side of the pump. There's a small arrow on top of the pump to indication direction of flow.
5.      Secure the outlet hose to the pump outlet with a hose clamp.
The end result is below. Since we didn't install the pump into a vehicle, we set it up so you can see how all the parts fit together.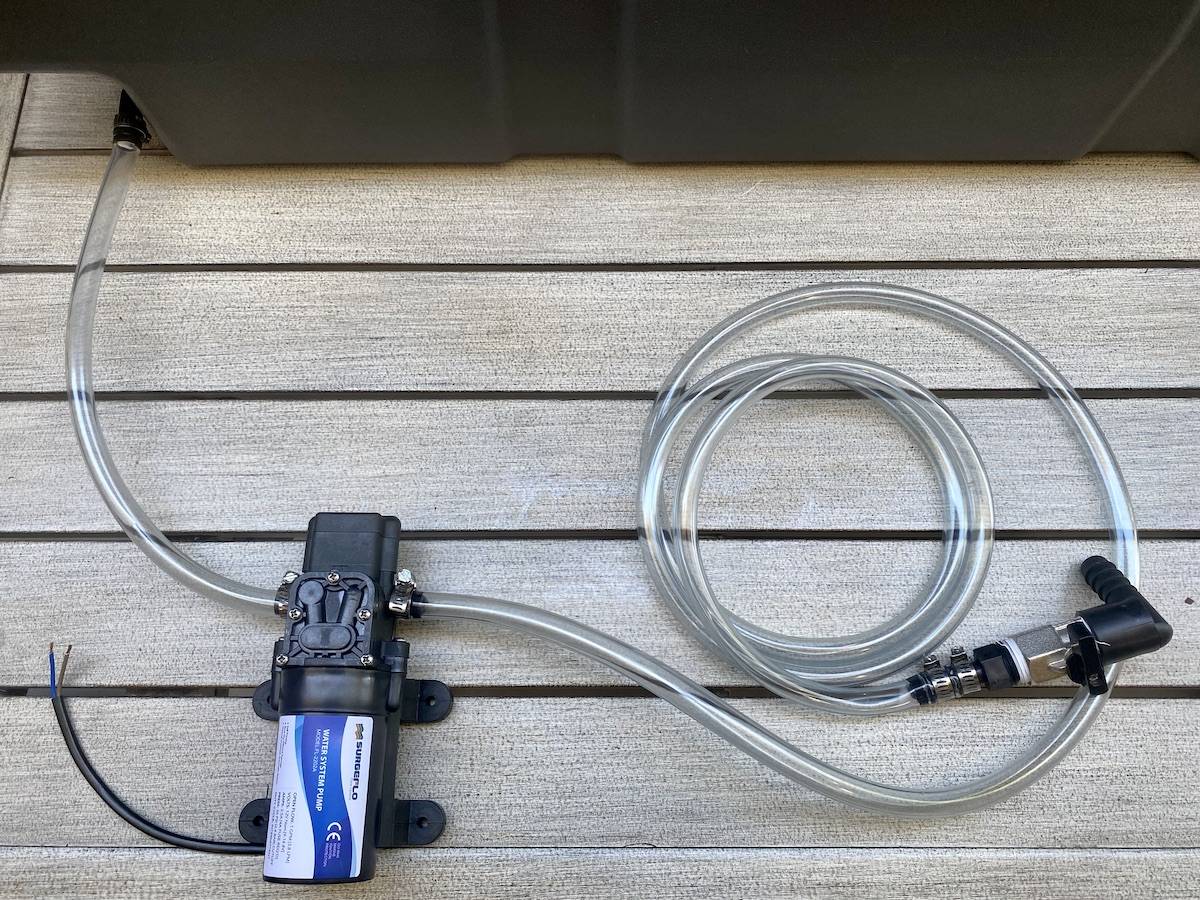 The water pump plumbed up to the tank.
If you're confident about DIY 12 volt wiring, then wiring the pump is straightforward. For those of you who aren't so confident, you're best getting an auto electrician to do it for you.
It's nearly impossible to describe how to wire the pump in detail. Why? Because every system is different. Here's what I mean:
·        How do you want to mount the pump – permanently or removable?
·        Does your vehicle have a dual battery system? If so, how close is it to the pump?
·        Is the dual battery system permanently mounted in your 4WD? Or is it a portable system?
·        Do you want to connect to the 12 volt supply with an Anderson plug, Merritt plug, hard wire it, or some other way?
And on it goes.
To give you a starting point, here's one way to run power to the pump. This example shows what you'll need if you're connecting the pump power supply to an Anderson plug.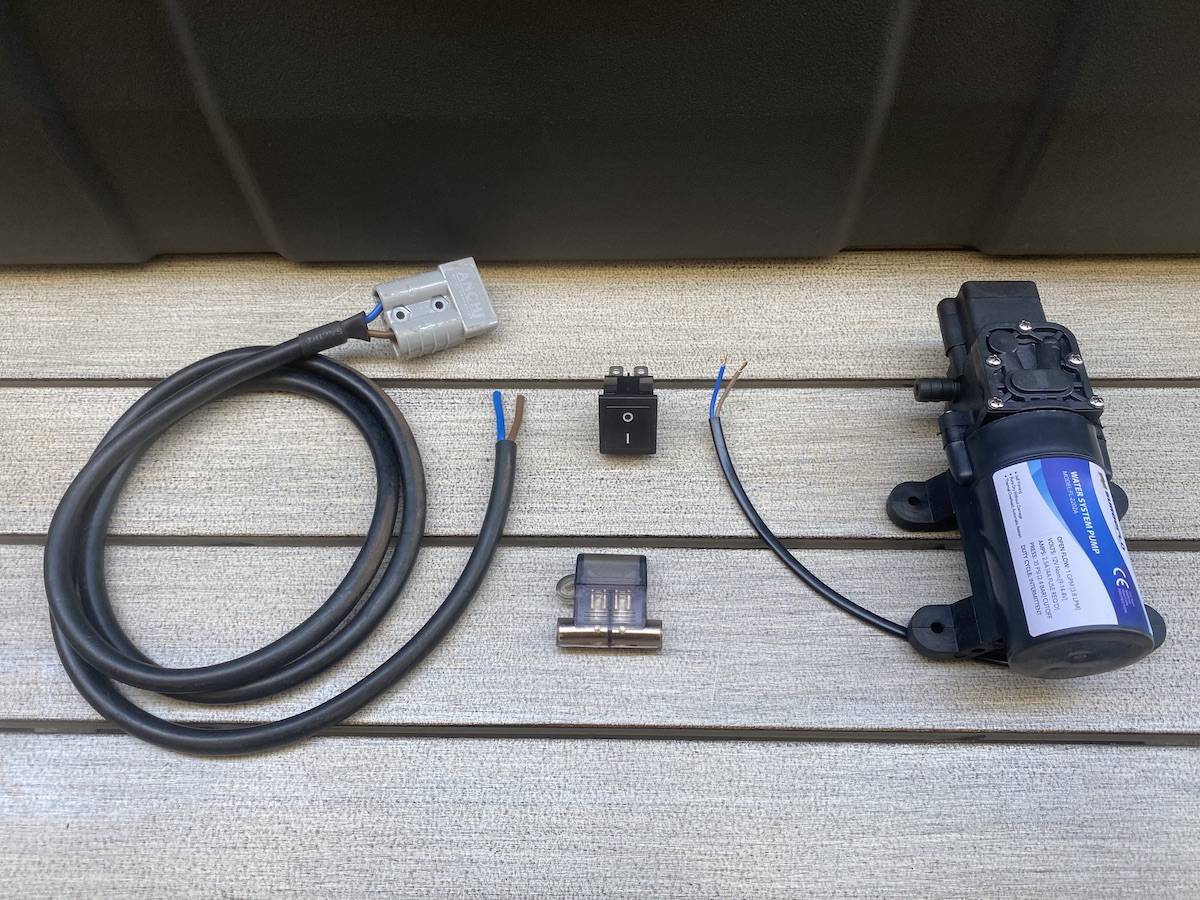 The components you'll need if using an Anderson plug for supply power.
In summary, you need:
·        A power source – Anderson plug, Merritt plug, and so on.
·        A fuse to protect the cabling.
·        An on/off switch.
With the tank plumbed, the next step's to install it in your vehicle.
Installing A 4WD Water Tank
To show you how compact these Boab tanks are, we decided to install the tapered tank in a Subaru Forester. The Subie's not exactly know for its huge interior capacity, so it was an ideal test vehicle.
We started with an empty rear cargo area… apart from all the dead grass, sand, and scratch marks! They're left-over debris from frequent camping trips.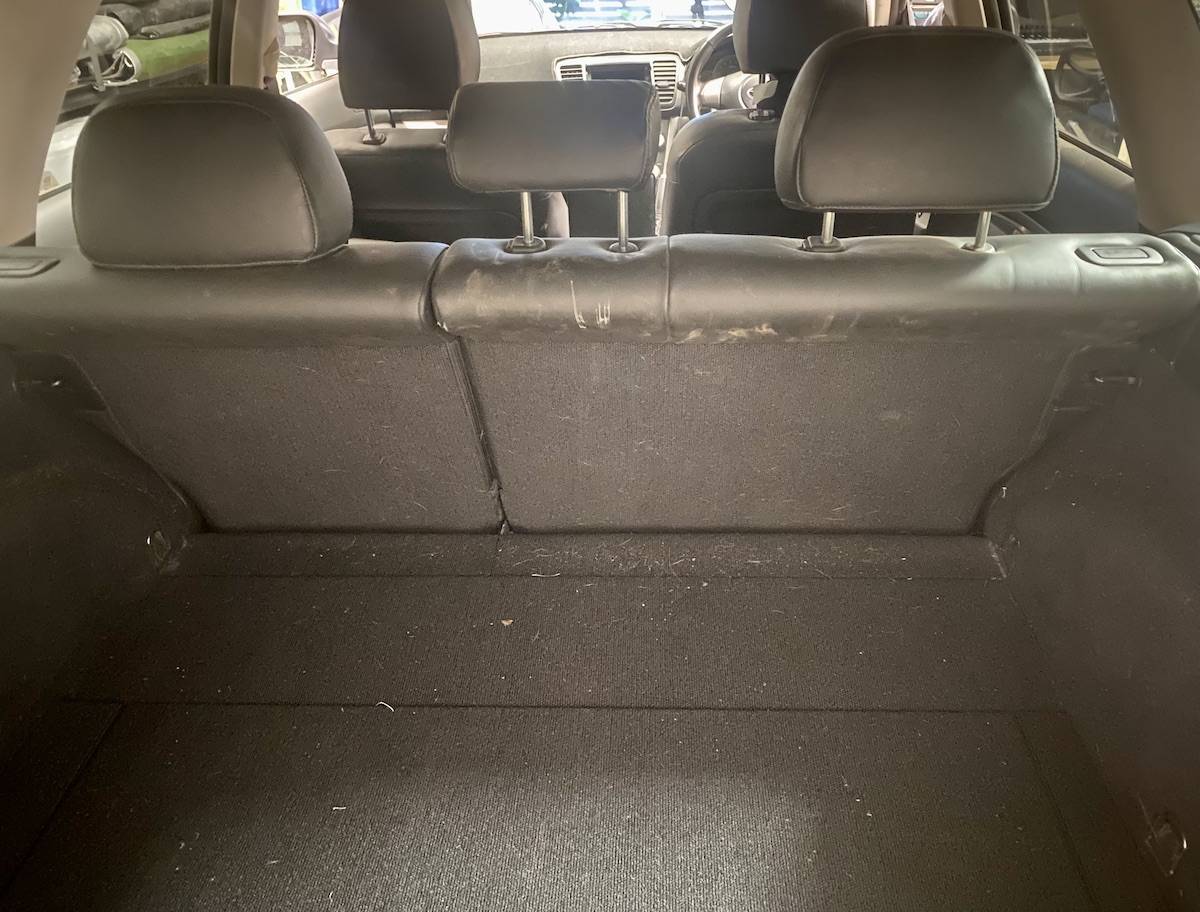 Behind the rear seat is an ideal spot to install a tapered tank, even in a small vehicle like a Subaru.
We wanted to keep the whole setup simple and be able to remove the tank when it's not needed. So we fitted the gravity-fed hose and tap, and used ratchet straps to lock the tank in place.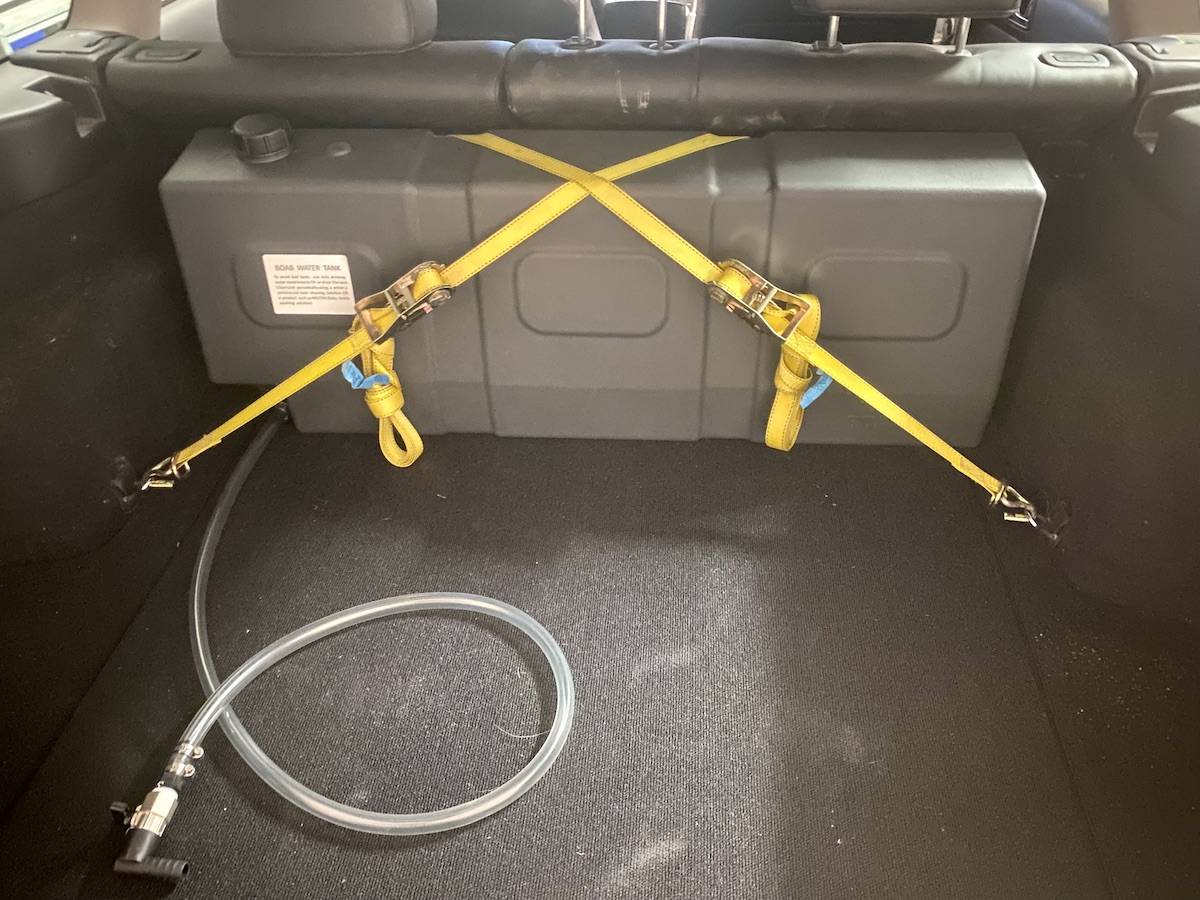 With the 50 litre tapered tank safely installed, there's still loads of space in the cargo area.
As you can see, installation couldn't be easier. Slide in the tank with hose already attached, add two crossed-over ratchet straps, and we're ready to fill the tank and go camping. That's a total of five minutes maximum.
Filling the tank's easy. With its large inlet, just grab a hose a fill it up.
One important point. You'll notice this tank has two moulded indents to allow fitting of straps. If you're mounting the tank permanently, try to use these strapping positions.
Steel bands are fine to use as straps. However, add some insertion rubber between the strap and the tank. This stops the straps rubbing the tanks and allows the tank to flex when the vehicle's body twists.
With a wide range of high-quality Boab tanks available, you can choose what tanks best suits your needs.
Compact tanks like the tapered tank, footwell tank, and slimline range fit in tight spots. The footwell tank uses available space in the rear. However, you need to consider whether the raised floor height is an issue for rear seat passengers.
If it is, consider something like a slimline tank or tapered tank instead.
For those of you with plenty of space in or under a ute tub or tray, you have more options. Add the rectangular or under-tray poly water tanks to the list. This way, you can mount them permanently under the tray.
Then add a gravity-fed hose kit or a hose kit with a 12V water pump and you'll be set up for the next camping trip.
CHECK OUT All OUR WATER TANKS
Contact
Email: contact@campingaustralia.com.au
Phone: 03 90880386
Address : Bendigo, VIC 3550
About us
Camping, caravanning, 4x4 and hiking equipment for the great Australian outdoors.
Camping Australia proudly stocks the camping essentials from tents, sleeping bags, camp cooking, hiking and climbing clothing and equipment, fishing gear, caravanning, 4WD gear and much much more all to help you enjoy this great country. Shop for thousands of products delivered all around Australia.