A Guide to Camping with an Electric Vehicle
Posted by Jen Mills, 1st October 2023
A Guide to Camping with an Electric Vehicle
Electric vehicles (EVs) are not only a testament to the advancement of green technology in Australia but have also risen as the latest camping novelty. With a myriad of advantages including their sustainable footprint, EVs offer an unrivalled camping experience, blending the love of nature with modern convenience.
However, there are some special considerations to keep in mind to maximise your trip. In this guide, we'll cover everything you need to know to plan the perfect EV camping adventure!
A Guide to Camping with an Electric Vehicle
The key factor to think about when camping in an EV is charging. With shorter driving ranges than petrol cars, you'll need to plan adequate charging stops along your route. Thankfully, Australia's EV charging network is expanding. But it certainly still pays to do your research before heading out. Use apps like PlugShare to map out charging stops on your intended route. Try to identify back-up options too, in case stations are busy or out of order.
When planning each leg of your trip, be conservative with the EV's estimated driving range. Factors like headwinds, uphill climbs, running the air con and loaded weight can all impact how far you can travel between charges. It's best to top up the battery at every opportunity, even if you have charge to spare. The key is never arriving at a charging stop critically low on power. With careful planning, EV road trips can go smoothly without excessive range anxiety.
While on the road, fast DC chargers will be your best friend for quickly topping up your EV's battery. But once you get to your campsite, you'll generally rely on slower AC charging overnight. Not all campgrounds currently offer EV charging facilities, so it's important to check ahead of time when booking to ensure they can accommodate your electric vehicle. Make sure you have the appropriate charging cable and adapter that will connect your car to the outlet provided.
The key benefit is that overnight charging means you'll often start each morning with a full or near-full battery, allowing you to maximise your driving range to reach trailheads or other areas you want to explore each day. With some savvy planning around charging, EVs open up options to stay at campgrounds in beautiful natural locations off the beaten path, without compromise on adventure.
Apart from driving, you'll also need to budget battery usage at your campsite. Running air con, lights, appliances and other electronics all drain your EV's battery. To conserve power, use campsite facilities like barbeques, sinks and hot showers where possible. Bring gas-canister camping stoves rather than electric cookers. Use battery-powered LED string lights rather than power-hungry incandescent bulbs. With some savvy power management, you can comfortably run many camping essentials on an EV's battery.
If your electric vehicle has decent ground clearance and all-wheel drive capabilities, then get out and explore nature to the fullest on your camping trip! While most production EVs on the market won't rival the extreme off-roading capabilities of specialised 4WD vehicles, many mainstream electric SUVs and crossovers can still handle gravel roads, forest trails, beach tracks, and national park routes with a bit of care and preparation. Drive slowly and cautiously over ruts, rocks, loose surfaces or steep inclines to protect your EV's underbody components like the battery pack. Consider equipping your EV with underbody guards or skid plates if venturing far from paved roads.
When traversing remote areas far from EV charging infrastructure, carefully plan ahead where and how you'll be able to recharge your battery. Research campgrounds or other accommodation en route that provide EV charging facilities. Investing in a portable power station with solar panels can also give you the flexibility to top up charge levels when camping. With the right EV model, some modifications, and smart route planning around charging, you can safely reach secluded campsites deep in Australia's beautiful wilderness. The lower noise and zero emissions just enhance the natural experience.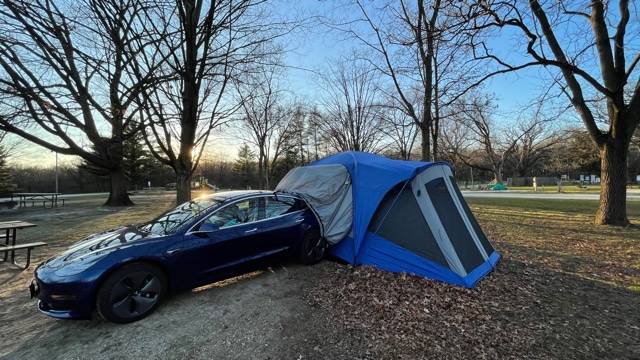 You can use a towbar mounted EV rack or trailer to carry your camping gear. Roof racks, bike racks and roof boxes are other practical options. When packing gear, account for the additional weight drain on battery range. And distribute weight evenly to avoid affecting vehicle handling. The generous cargo space of many EVs also makes packing up at the end of your trip much easier. With good organisation, your EV can haul all the gear your camping crew needs.
Hitting the Road in an EV
While EVs need a bit more planning, they can make fantastic eco-friendly camping companions. Just follow the tips above to ensure you can recharge as required. Then get ready to enjoy all that Australia's great outdoors has to offer - without burning a drop of petrol!
With their instant acceleration and handling agility, EVs can bring plenty of driving smiles along country roads too. So gather your friends, stock up your EV with supplies, and head out on your next adventure. Don't forget to consider electric vehicle insurance options to ensure you have coverage before hitting the road. You may just find that electric camping trips become your new favourite way to escape and explore Australia's beautiful landscape.
Contact
Email: contact@campingaustralia.com.au
Phone: 03 90880386
Address : Bendigo, VIC 3550
About us
Camping, caravanning, 4x4 and hiking equipment for the great Australian outdoors.
Camping Australia proudly stocks the camping essentials from tents, sleeping bags, camp cooking, hiking and climbing clothing and equipment, fishing gear, caravanning, 4WD gear and much much more all to help you enjoy this great country. Shop for thousands of products delivered all around Australia.