Cast Iron Campfire Cooking Hacks: Tips and Tricks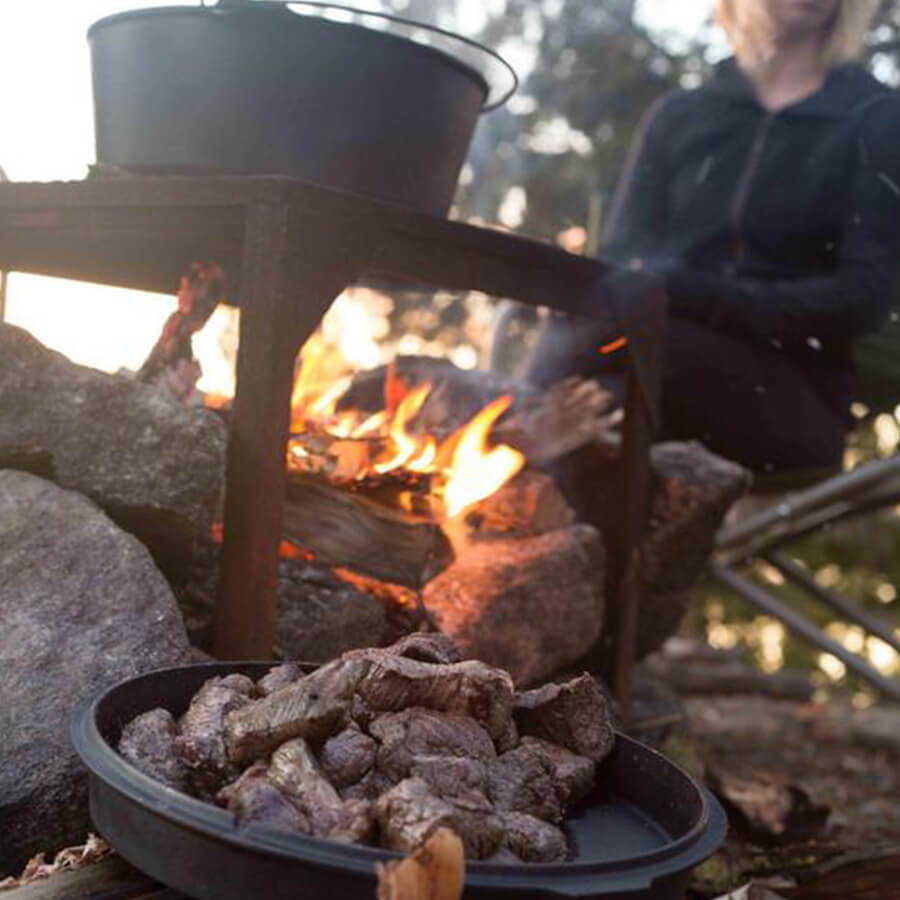 Cast iron is among the easiest culinary cookware to use on a campfire and for rusting cooking; it's durable, super versatile, and great for all kinds of cooking.
For example, the cast iron Dutch ovens shine in the outdoor cooking department. Their worth is weight in gold and will make your outdoor campfire cooking more enjoyable.
Unfortunately, many campers usually get overwhelmed by "rules" they think they must follow to use cast iron on a campfire. These rules feel like trappings, but I'll share some handy tips and tricks for using cast iron on a campfire in this guide.
Read on!
The only real enemies of cast iron are rust (fixable), thermal shock, and dropping (cracking). Beyond that, you can do anything without worrying too much.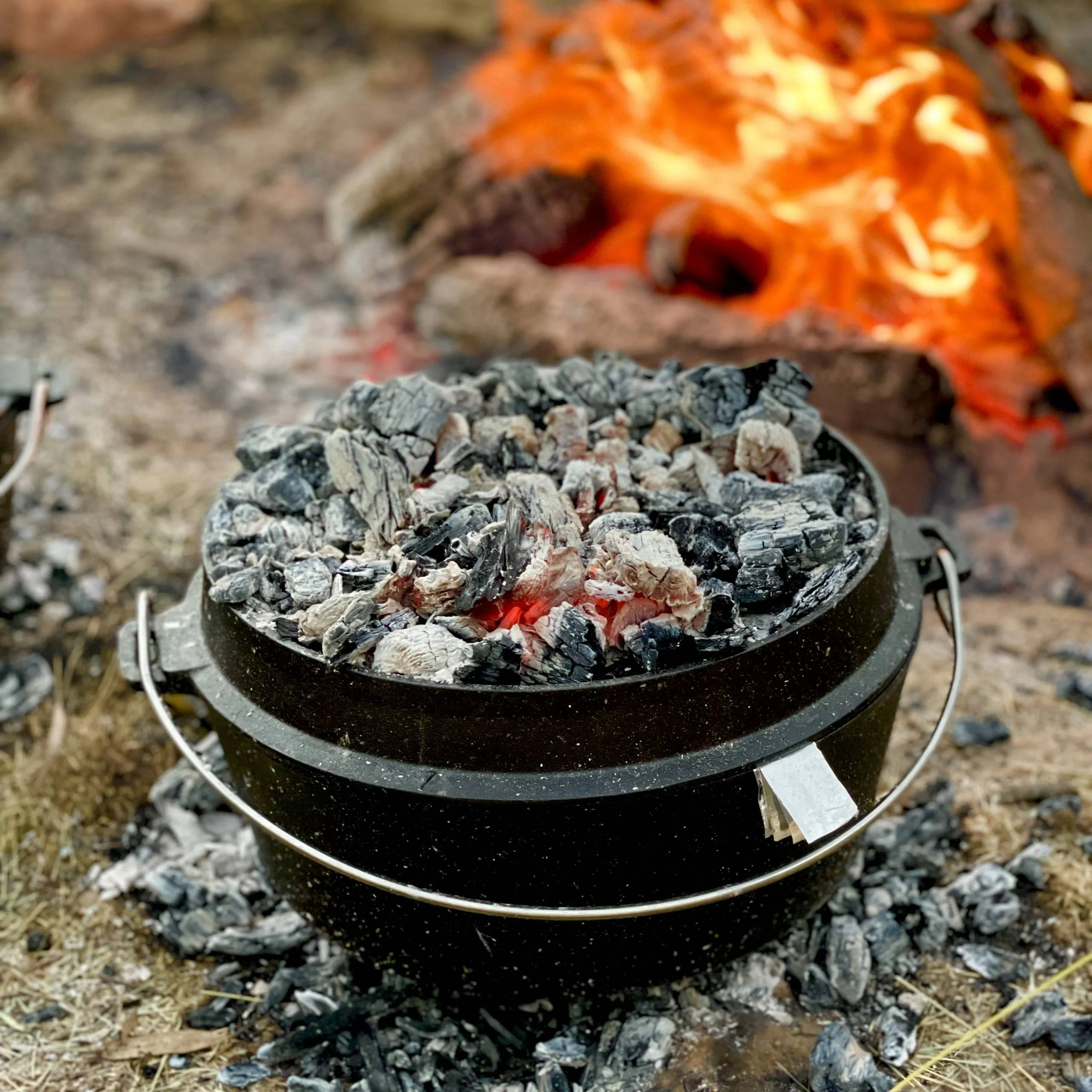 Treat Cast Iron as a Normal Cooking Pot

A big mistake I see campers make is worrying too much about their cast iron pots. There seems to be a tendency for some users to treat cast iron with a bit of religiosity or like a newborn at first.
But one of the best things about cast iron is its durability. Of course, don't use your cast iron skillet to hammer your tent stakes into a rocky ground; you should treat the cast iron similarly to your other cooking equipment.
The only real enemies of cast iron are rust (fixable), thermal shock, and dropping (cracking). Beyond that, you can do anything without worrying too much.
Bare Vs Enameled Cast Iron

Cast iron is generally available in two main categories: bare/raw cast iron and enameled cast iron. It's important you know the difference between the two.
I would recommend the bare cast iron for hardcore campers who need cooking cookware they can trash. It's a great solution for campers who don't need to baby their pots.
On the other hand, enamelled cast iron is a fantastic option, especially for stocks, soups, chilling, and bread. Bare cast iron works well for stews, roasts, and pot cooking.
The greatest challenge of enameled cast iron is delamination, meaning it's not particularly great for open campfires. While nothing inherently different between a campfire and a gas stove heat source, it's easy to get too much heat on a campfire, thus delaminating the enamel. Raw cast iron doesn't have this problem.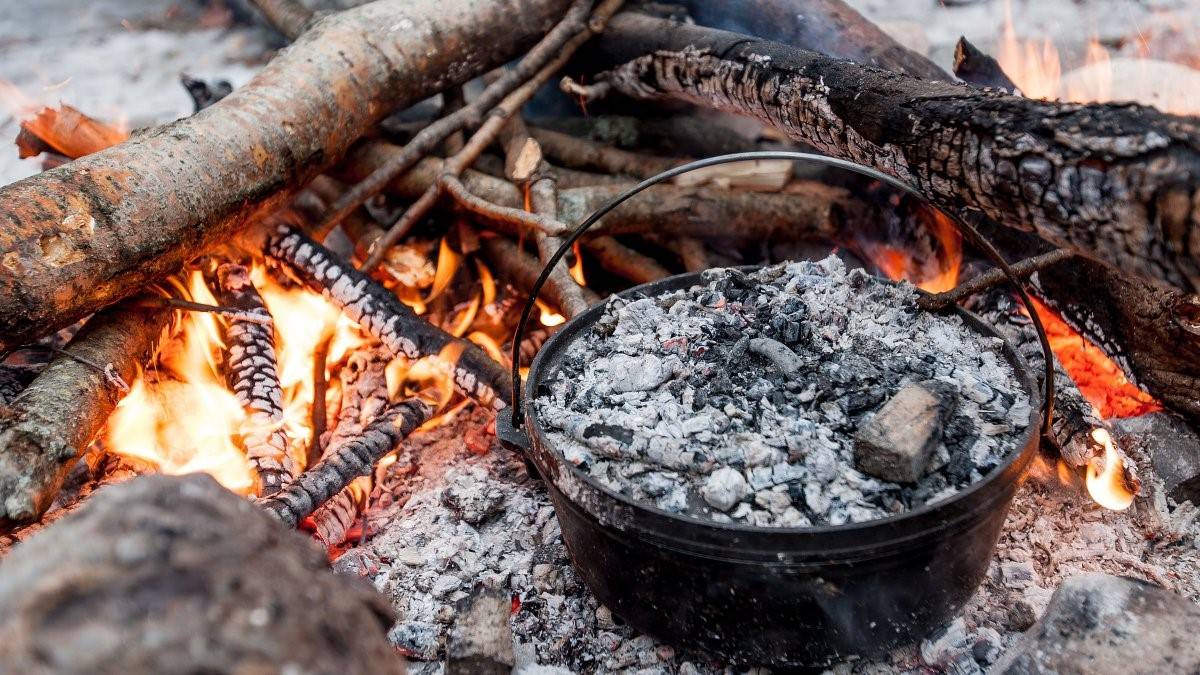 Traditional cast-iron cookware doesn't emerge from the box with a non-stick surface. Therefore, you must season them to prepare their rough surface for cooking.
Seasoning is simply applying neutral oil all over the cast iron surface so that it bakes onto the surface of the cast iron, sealing it and making it non-stick. Seasoning provides a non-stick surface, enhances rust protection capabilities, and adds flavor to your food.
It also helps to maximize the life of your cast iron, and it improves over time, provided you never wash it with soap or other degreasers.
Always Allow the Cast Iron to Pre-Heat

The biggest mistake campers make when using cast iron is not letting their cast iron pan or pot heat up for a few minutes due to how long it takes to heat up and being accustomed to normal cookware.
Remember, cast iron is a shitty conductor of heat with a high thermal capacity, which usually helps with fluctuations. It heats differently than the ubiquitous Teflon-coated aluminum and will generally take longer to heat up but hold heat for longer.
Therefore, you must pre-heat it longer than you think. Starting to cook in cast iron cookware that isn't heated enough may cause food to stick. Heating also "closes the pores" of the cast iron, which helps to create a more polymerized surface.
A good way to determine whether you've pre-heated your cast iron well enough is to the point where you can place your flat palm about an inch over the cast iron and say, "not interested in getting any closer."
Alternatively, put a hand in the water and sprinkle a few drops in the cast iron. The temperature is great if the water drops, sizzle, and skip across. But if it instantly vaporizes into steam, it's too high. And if it sits there, it's not hot enough.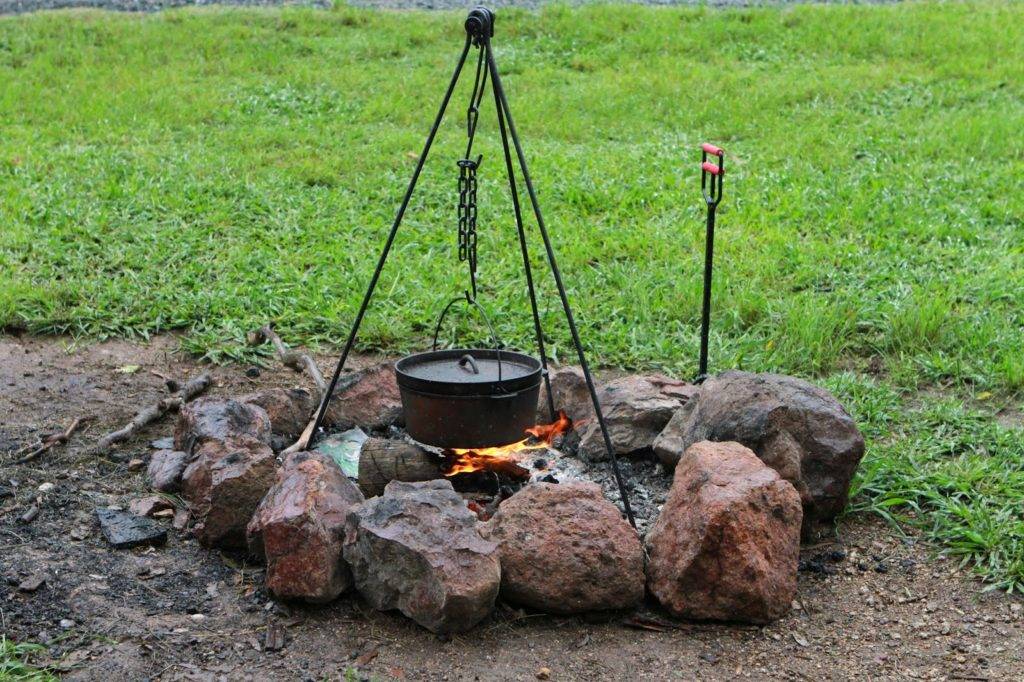 Don't Place your Cast Iron Directly Above Flames

Many campers often underestimate the heat of a campfire. The amount of coal, perfect for cooking, may not be impressive, but I recommend working towards a bed of coals rather than an open flame.
The problem with using an open flame is that it may temperature-shock cast iron. Rapid expansion or shrinkage of iron may result in cracking. On top of that, cast iron conducts heat a lot better than other materials, so you don't have to get it as hot. Start lower and work your way up if you need to.
Ideally, your fire should be roaring for some time before you start cooking. It should also contain as much hardwood as possible and allow it to hot coals for cooking. Alternatively, you could use charcoal; just ensure they're ashed already.
Another important cast iron cooking tip is you should always cook with the lid on and remove your pot from the fire to stir your food. Lifting the lid while cast iron is over a campfire will likely soot your food.
Also, when you get cast iron cookware, you must consider the handle/lid temperature range for what it's good for. Quite often, the pot/pan itself can withstand higher temperatures, but the lid may have a limited lower range. For example, metal knobs generally have a higher temperature range than the plastic knobs.
The lid design is also crucial because you want something that will create a firm and solid seal with your pot to keep moisture inside. You shouldn't discount the handle design because it makes handling the bigger and hotter pots much more effortless. Get a cast iron cooking pot with huge handles that you can grab with mitts.
Cast iron can get hot, so you'll need something to protect your little fingers and hands. My advice is you don't even bother with the BBQ gloves unless you're handling food directly. Instead, go to your hardware and get some welders gloves.
Welder's gloves will provide fantastic campfire heat protection. They can also handle camping dirt, are easy to take on or off, are durable, and are usually large enough to protect even your forearms.
Even then, don't underestimate how hot cast iron can get. It's always a good idea to use an extra towel if needed.
How to Avoid Food from Sticking in Your Cast Iron Cookware

Here are some tips to keep food from sticking on your cast iron cookware:
Ensure your cast iron is seasoned properly
Always ensure the cookware is hot enough. Cast iron may take at least twice as long to reach the proper temperature.
Avoid turning your food too soon, and not letting it caramelize
Other Cast Iron Cooking Tips

Seasoning your cast iron is fun, but cooking a lot will help build a durable seasoning.
Seasoning can and will be uneven. You can some and lose some through cooking, and the seasoning might appear lighter until you cook for a while.
Avoid stacking cast iron packs on top of each other without a barrier between
Baking cornbread and brownies helps to add seasoning to a new cast iron skillet.
Never put hot cast iron in the water. Wait until it cools to avoid thermal shocking iron.
Seasoning can always be restored.
It's a wrap and everything you need to know about cast iron campfire cooking tips. Understanding and learning how to use these tips will greatly enhance your outdoor cooking experience. And in particular, it'll make it easier for you to extend the life of your cast iron cookware and enhance your flavor.
Contact
Email: contact@campingaustralia.com.au
Phone: 03 90880386
Address : Bendigo, VIC 3550
About us
Camping, caravanning, 4x4 and hiking equipment for the great Australian outdoors.
Camping Australia proudly stocks the camping essentials from tents, sleeping bags, camp cooking, hiking and climbing clothing and equipment, fishing gear, caravanning, 4WD gear and much much more all to help you enjoy this great country. Shop for thousands of products delivered all around Australia.